Monitoring System Development in Real Time (RTMS)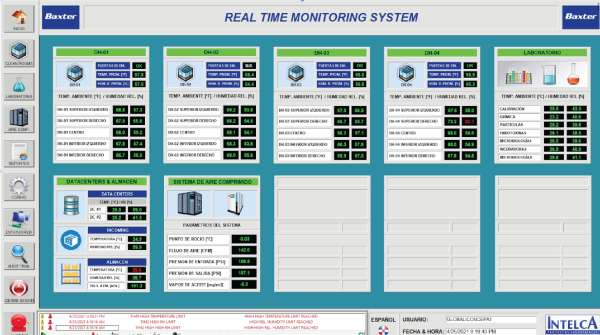 Development of continuous monitoring system validated FDA 21 CFR Part 11 under Rockwell Allen Bradley platform for temperature measurement..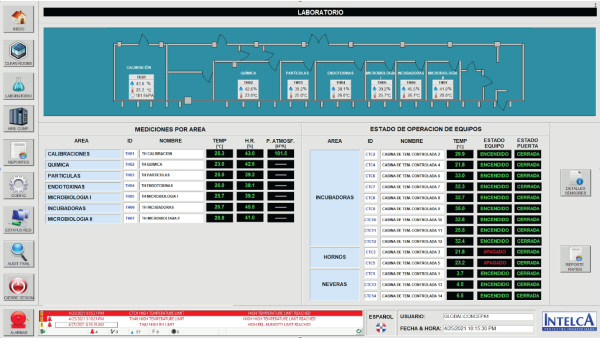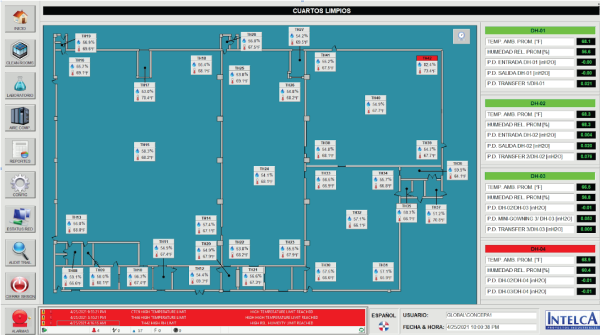 RTMS - Clean Rooms Screen
This project had the following scopes:
Design, manufacture and assembly of a clean room monitoring panel intended to record temperature and humidity readings, and differential pressure (around 150 signals). Likewise, it receives constant feedback on the status of the emergency doors distributed in the clean rooms.
Design, manufacture and assembly of a monitoring panel for technical services laboratory areas intended to record the temperature, humidity and atmospheric pressure readings of a total of 7 laboratory areas, as well as the set of incubators, ovens and refrigerators used in them.
Design, manufacture and assembly of a monitoring panel for the compressed air system intended to record the readings of flow, pressure, dew point, oil vapor and temperature of the compressed air used throughout the plant.
Design, manufacture and assembly of a set of auxiliary panels for continuous monitoring of temperature and humidity in data centers, incoming area and warehouse area.
Supply and installation of all the instrumentation required for the monitoring system.
Design, development, commissioning and validation of continuous monitoring system under FactoryTalk View Studio platform. The system has interconnection with a SQL Server database, where the set of records of the various areas described are stored every minute, by means of an integrated datalogger. In addition, it has a link to the corporate's Windows Active Directory user management system, allowing it to comply with the security and data integrity requirements established by the FDA 21CFR Part 11.
Design, development, start-up and validation of the report and alarm management system integrated into the monitoring platform. The system has the necessary tools to make reports of the various areas and equipment conglomerate, with sampling time and date range defined by the user. These reports have been designed under the client's documentation standards and, after generation, cannot be modified.